Testimonials
Fantastic!
Angie is a fantastic photographer with such a great eye. Absolutely wonderful to work with and makes you feel so comfortable. I would highly recommend her to anyone!! I was very nervous going in to do my boudoir shoot and as soon as I walked in the door she immediately made me feel confident. She is fun, personable, and outgoing. I had no idea what I poses or outfits I wanted to wear and she was spot on. I could not ask for a better photographer. Thank you so much! If there were a rating higher than 5, this woman would get it!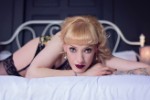 Great Experience!
I met angie at her studio while being filmed for a major event in my life that aired on TLC. It was also a Valentine's day gift for my boyfriend. I've done a boudoir shoot once before and it was not the greatest experience. Angie made it seamless, was very comforting, and genuine. Her studio is beautiful as well! A big shoe closet and outfits to choose from (even though I brought my own). It was just a fun experience all around. I'd definitely recommend using Angie for any photos that are needed. She was professional, genuine, and was very attentive to what I was looking for.
I loved every minute of my session with Angie! My pictures are stunning and I would highly recommend her! ~Sarah
I loved my session with Angie! She is friendly, yet professional, so it was a lot of fun! I was worried about being nervous or not knowing how to pose, but Angie made the whole process so easy and made me feel super comfortable! She is wonderful at helping you pose to capture what makes YOU beautiful. I wanted to be a professional model by the end of the shoot haha. And can I just say... I NEED that shoe wall!! ~Bel
In Love
I love all the photos that she took for my engagement session, she everything that i wanted without me having to even say a word. She truly captured the love that my fiancée and I have and I could not have picked someone better to capture this memory for me. Absolutely just in love. ❤️ Thank you again Angie
Family is Forever
Angie D Photography is amazing! Angie is not only a wonderful photographer but a kind and sweet human being! She gets the shots that you could only hope for and because she is not afraid to be goofy and energetic got all five of my kids to not only look at the camera, but smile and laugh. Highly recommend Angie for your photo needs.
Angie is amazing, she was so wonderful with my daughter! I highly recommend her!